Questions to Help You Find Your Calling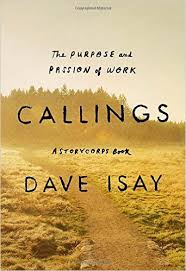 If you're a NPR geek like me, you've likely heard that Dave Isay, the founder of StoryCorps recently published a new book Callings: The Purpose and Passion of Work. Culled from over 65,000 recorded StoryCorps interviews, the stories demonstrate that vocational passion and fulfillment can be found in the most unexpected ways and places.
I read the book this past weekend and enjoyed it thoroughly. I think you will too.
While the book is more an inspirational read than a how-to guide, Isay includes a list of thought-provoking questions at the end of the book that I think are worth sharing. (Technically these questions are designed to get people to open for their StoryCorps interviews, but I think they're equally useful as a means to help you find your calling).
While not all the questions will resonate, at least a few should prompts some insights into your values, motivators and passions as you plan your second act.
Here are some of my favorites:
What were the happiest moments of your life? The saddest?
Who has been the most important person in your life?
What lessons has your work life taught you?
What are you the proudest of in your life?
Are there any words of wisdom you'd like to pass along to me?
How has your life been different than what you'd imagined?
How would you like to be remembered?
Do you have any regrets?
Interesting food for thought, no? I hope you'll take some time to mull these over.
To learn more about the book and to hear a few of the interviews, be sure to check out this NextAvenue.org post Finding Your Calling Through Work.
Similar Topics: Advice, Tips and Tactics, Books
Join our mail list for
exclusive updates!