Book Review: How to Retire Happy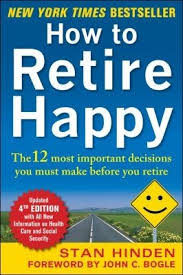 "If you want your retirement to be successful, you must do two things. First, you need to equip yourself with the information you'll need on your journey into the world of Social Security, Medicare, Medigap, long-term care insurance, pensions and 401(k) plans. Second, you need to decide what you want to do in retirement."— Stan Hinden, author of  How to Retire Happy: The 12 Most Important Decisions You Must Make Before You Retire
So true – if you want the flexibility to do what you want to do in your second act, you first need to pay attention to the financial pieces of this puzzle. That's why I suggest you read this book.
Normally reading about topics like Social Security, Medigap, long-term care insurance, etc., makes my eyes glaze over. But Hinden, who spent 20+ years as a Washington Post financial reporter and several more as their "Retirement Journal" columnist, explains these complicated and technical issues in a refreshingly easy-to-understand way.
Hinden's tone is welcoming and down-to-earth (a welcome change from many other holier-than-thou financial reporters). He readily owns up to his own missteps during the retirement planning process and provides tested advice that will help you avoid making the same mistakes. He also shares the changes he made to his own plans after his wife developed Alzheimer's several years ago.
How to Retire Happy (now in it's fourth edition) is an engaging read that will help you make the right planning decisions for your retirement. Take a look – I am confident you will find it a welcome complement to your second-act career planning toolkit.
Question: What other retirement planning books do you find helpful? Please share in the comments section below.
Similar Topics: Books
Join our mail list for
exclusive updates!