New Book: Not Your Mother's Retirement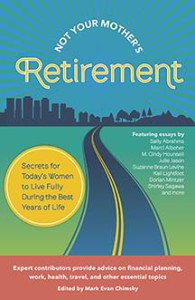 I'm delighted to tell you about a new book: Not Your Mother's Retirement that hit the market in early March. It is a collection of 20 essays by distinguished retirement experts. I am thrilled to be one of the featured contributors, but even prouder of the fact that all contributors provided their essays on a pro-bono basis as all the royalties from the sale of the book will benefit cancer research and prevention. 
The book is aimed at women in their 40s and 50s, to help them prepare for a successful retirement while they still have enough time to do so (don't be put off guys, the information is just as useful for you!). It contains invaluable information on a wide variety of topics, including financial planning, housing, work, travel, health, volunteering, lifelong learning, caregiving, spirituality, being single, and staying active in retirement.
You can learn more about the book in this post on NextAvenue or you can order the book by clicking here.
Similar Topics: Books
Join our mail list for
exclusive updates!