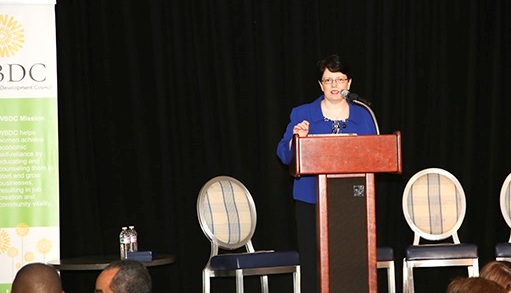 Last week I had the great pleasure of watching one of my former clients, presentation skills coach Gilda Bonanno  emcee the the 13th annual Women's Business Development Council Business Breakfast in Stamford, CT – an event that celebrated the Connecticut WBDC, which has helped to grow 4,000 businesses to date.
It was a real thrill for me to see Gilda wow the crowd of nearly 700 business leaders and entrepreneurs (Excellent job Gilda!) but the event also served as a great reminder of the many wonderful free and nearly-free services available to help aspiring entrepreneurs. Not just in Connecticut, but throughout the country.
Thanks to the US Small Business Administration (and your tax dollars) you can take advantage of a wide variety of online and local classes, workshops, counseling services and networking opportunities to help launch, build or grow a semi-retirement business.
I've had clients use them for years and I recommend them to you as well. So if you're ready to go from idea to income, here are three free (or nearly free) SBA-affiliated resources to consider:
1. The SBA's Office of Women's Business Ownership (OWBO) oversees the WBC network, which provides entrepreneurs (especially women who are economically or socially disadvantaged) comprehensive training and counseling. There are nearly 100 educational centers throughout the United States and its territories (some of them also offer services to men). Most of the services provided are free or low cost. Here is a link to find the office nearest you.
2. The SCORE Association, supported by SBA, is a nonprofit association of thousands of volunteer business counselors throughout the U.S. SCORE members are trained to serve as counselors, advisors and mentors to aspiring entrepreneurs and business owners.
3. Small Business Development Centers (SBDCs) helps new and existing businesses remain competitive in a complex, ever-changing global marketplace. SBDCs are hosted by leading universities and state economic development agencies, and offer a variety of free business consulting and low-cost training services including: business plan development, manufacturing assistance, financial packaging and lending assistance, exporting and importing support and healthcare guidance.