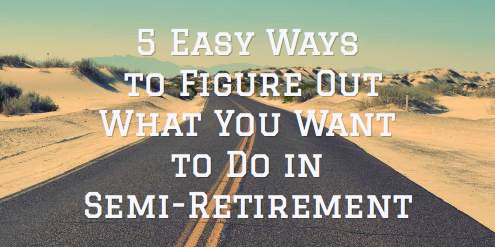 I get that emphasis on "easy." Finding the time to focus on the future is not so simple when you're busy working hard at your full-time job. But even if you can only spare a few hours each month, there are some simple things you can do now to begin to plan for your second act.
Here are 5 suggestions:
1) Start a reinvention notebook. Treat yourself to a notebook where you can record ideas as they come to you. That way, whenever you have a brilliant (or not-so-brilliant) idea, or stumble upon a resource you'd like to explore in the future, you'll actually stand a chance of remembering it when you need it.
It doesn't matter what type of notebook you use. A good old-fashioned college rule spiral notebook works as well as a fancy silk-covered journal. My only advice is to write in the book as soon as you buy it. Blank books can be surprisingly intimidating, so dive in and make it your own right from the start. Of course, if you prefer to record your thoughts electronically that works too.
2) Indulge in a steady diet of reinvention inspiration. There's nothing more motivating than reading about other older people who have reinvented themselves for semi-retirement. Even if the subject of the story is doing something very different from what you plan on doing,  there are always valuable takeaways that you can apply to your situation.
Fortunately, there are a growing number of books, websites and magazines that are publishing inspirational second-act stories. You can find some of my favorites in these posts: 100+ Great Second-Act Career Resources and Do What You Love: 50+ Second-Act Stories. When you find a site you like, be sure to sign-up for their free newsletters and updates so you'll always have a ready supply of new inspiration waiting in your inbox. It will only take you a few minutes each week to read these stories, but if you start now, you'll be sure to find a few that really resonate over time.
3) Do one small thing every few months to test out a new idea. Chances are you have at least one or two ideas brewing about things you'd like to do in retirement. Rather than just thinking about them, try to do one small thing every few months to test out that idea.
Thinking about selling your jewelry online? Sign up for a workshop on how to be an e-tailer. Pondering a second-act selling your world-famous cookies? Go to a food-related conference. Interested in transitioning into an encore career where you do something to advance the greater good? Volunteer to serve on the board of your favorite local charity. Thinking about teaching? Look into possibilities for teaching one course as an adjunct at your local community college. By testing out your ideas slowly over time, you'll be in a much better position to make decisions and hit the ground running once you "retire."
4) Brainstorm ideas with a group of like-minded friends. By the time you're over 50, you not only know a lot of people, you know a lot of people who know a lot of people, ideas and resources. Tap into that potent brainstorming force by throwing a brainstorming party. You'll be amazed by who knows who, who knows what and how quickly ideas will flow.
This doesn't need to be a big fancy project. Just invite a group of friends over for brunch (if you get energized by coffee) or dinner (if your ideas flow more freely with wine) and get the conversation rolling. Six to eight people is generally a good number and it's best to invite people who are supportive personalities and/or creative thinkers (no Debby Doubters or Doug Downers welcome). You can run this anyway that feels comfortable to you, but do be sure to takes notes to record all the great ideas that get shared!
5) Take time off. I know you might be surprised to read this but I often urge clients to take time off before finalizing their next-act plans. When you are engrossed in the day-to-day stresses and minutiae of your every day business responsibilities, it's incredibly difficult to focus on what's next.Taking a break acts like a career version of a palate cleanser– a chance to clear your mind, gain distance from your old routine and allow a vision of who you want to be to begin to emerge. 
Turns out lots of people follow this advice (probably without even realizing it). According to a 2014 Merrill Lynch survey of 1856 working retirees, 52% said they took time off after retiring to recharge and refresh. So give yourself permission to do nothing and just enjoy life. You'll be amazed at how the time away will allow you to assess your situation with fresh eyes and a new appreciation of the possibilities.