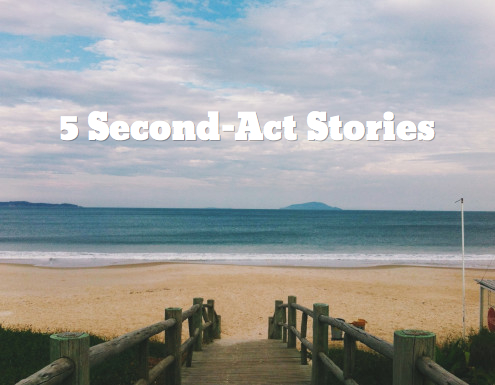 There's nothing like reading an inspirational second-act story to get you energized about the possibilities for semi-retirement. I often write about those stories here on the site. But since I've hadn't had much free time as of late to write, I wanted to share five stories that I recently found on the web. Enjoy!
1. From Exec Recruiter to Yoga Instructor (Encore.org): Felice Brenner turned her love of yoga into an encore career teaching Pilates and yoga at the VA medical center.
Takeaway Tip: "You don't want to be 70 or 80 years old and then say, 'I could have, should have.' Trust the things you love, get training or get motivated and something will happen that will lead you to the next thing."
2. From Leisure Cyclist to Cycling Entrepreneur (on HuffPost): Great story about how one couple turned their need for a boomer-friendly bike into a booming business opportunity.
Takeaway Tip: "We work with a lot of boomers displaced from corporate America, who are looking for second careers. Many of them already have entrepreneurial skills and would rather work 80 hours a week at a job they love than 40 at a job they hate. This is a particularly satisfying business because we sell fun."
3. From Empty Nesters to Travel Bloggers (GypsyNester.com): Fascinating behind-the-scenes look at how two boomers have built their travel blog over time. Lots of useful info here!
Takeaway Tip (or tips in this case): "We meet, learn, network, and have a blast at TBEX conventions – an excellent resource for travel bloggers and aspiring travel bloggers, highly recommended by us. We also read the TBEX blog. As folks of "a certain age," we also gather inspiration at AARP's Life@50+ Expos and are members of the Facebook group Boomer Travel Bloggers (the criteria to join the latter are people who are travel bloggers with their own blogs and were born between 1946 and 1964 – but, if you don't fit the demographic there are similar groups out there to join).
4. From Law Librarian to Self-Published Author (AARP Life Reimagined): Ever think about writing a book? This story will help you gain a better understanding of self-publishing options.
Takeaway Tip: "I can pursue projects that are too out there for traditional publishing to consider. Traditional print publishing would never publish nine books in nine months— but I can experiment and see if it works. If it doesn't, I have the power to tweak it."
5. From Cancer Patient to CEO of the Pink Fund, a nonprofit that provides financial assistance to cancer patients. I had the great joy of meeting Molly McDonald, CEO of the Pink Fund, last year at the Encore Conference and I strongly encourage you to read her extremely moving second-act story in this NextAvenue.org post How to Start a Charity for a Cause You Care About.
Takeaway Tip: "Start out by volunteering your time. 'In the first three years, we worked from my kitchen table, raising about $30,000. By 2010, I had enough savings put aside that I quit my job [working for a mortgage company] and told the board that I would volunteer full-time without pay for one year,' MacDonald says. In 2011, the board voted MacDonald a $40,000 salary, which has since risen to $70,000."