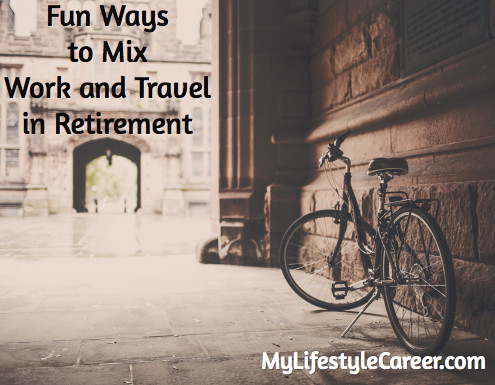 I recently received a question from a new visitor to the website asking the following:
" I want to travel, have motorhome – will travel, and would love to get paid for it.  Any suggestions for career changes?  Keep up the great work and hope to hear from you soon."
Rather than respond to her directly, I thought it would be helpful to post my answer here, since so many of you would like to figure out ways to blend work and travel during semi-retirement. Here are a few suggestions:
Coolworks.com: My favorite site for seasonal employment listings, Cool Works features fun job opportunities in great places like national parks, various resorts, ranches, camps, ski resorts, and jobs on the water.
House Sitting: If you're someone who can work remotely (writers, artists, etc.) house sitting (which often also means pet sitting) can be an interesting way to live in a different part of the world rent-free.  As this article, A Primer in House Sitting notes, retiring baby boomers and workers in the freelance economy who can do business anywhere with a laptop and a smartphone make up the primary supply of house sitters.
Home Exchange: Take advantage of the sharing economy and "swap" a stay in your home with a stay in a different location. While you won't get paid for renting your own home, every night you spend in someone else's home is a night of not paying for a hotel room, and that can add up to thousands of dollars over the course of a retirement. Equally important, living in a home as opposed to a hotel room, gives you an opportunity to experience life like a local, not as a tourist. To learn more about how to find home exchanges, as well as the pros and cons involved with home exchanges, check out this NY Times article Home Exchange 101.
Just For RV'ers…
Seasonal Jobs for RV'ers: Looking to earn pay while you stay at campgrounds? You can – if you are willing to roll up your sleeves and work while you stay. Typically, you'll earn a free RV site in exchange for a set number of hours per week, and then get paid an hourly wage for additional hours.Here's a link to a great article AARP recently posted on this topic.
For more ideas:
5 Ways to Turn Love of Travel into Income: My article on Job-Hunt.org
Tips for Retirees Looking for Fun Summer Jobs: My article on NextAvenue.org
HomeFreeAdventures.com: In 2011, Lynne and Tim Martin sold their house in Central California's wine country, gave away the furniture, and stuffed their remaining treasures into a 10 x 15 storage unit. Since then, they've lived in rented apartments and houses internationally, putting down new roots one country at a time. Their blog and book details their adventures.