About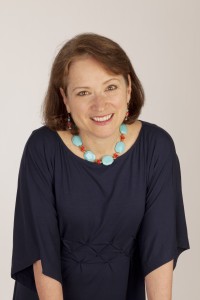 Welcome!
Thanks for taking the time out of your busy day to learn more about me and my services.
I'm Nancy Collamer, a career consultant, speaker and author of Second-Act Careers: 50+ Ways to Profit from Your Passions During Semi-Retirement.  My passion is helping people  find fun, fulfilling and flexible ways to profit from their passions during their semi-retirement years. Since I am all about  "profiting from your passions" let me tell you about how I do that in my own lifestyle-friendly career:
Coach: I work with clients around the country (by phone ) to help them design their semi-retirement lives. I've been in business since 1996 and during that time I've helped hundreds of people discover ways to create income without a traditional 9-5 job. (here's a link if you want to learn more specifics about my consulting services).
Speaker: I absolutely love speaking to audiences about career reinvention, second-acts and semi-retirement careers. I customize my talks to every group, so if you know of an association, corporation or community group in need of a engaging speaker, please do send them my way.
Writer: Finally, as many of you know, I  write a bi-monthly column about careers and volunteering for the PBS website, NextAvenue.org (which appears on Forbes.com as well). In addition to my regular column, I also write for several other sites including USNews.com And, of course, I publish a bi-monthly free newsletter with all sorts of useful information about semi-retirement (please sign-up in the box at the top of this page).
A bit about my background: A native of Freeport NY, who studied psychology at UNC/Chapel Hill, I spent my early career working in corporate human resources where I learned about interviewing, training and labor laws.  But after becoming a mom in 1987,  I decided to leave corporate life behind and headed back to school to get a masters degree in career development.
Since that time, I've been helping clients around the country find more fulfilling ways to earn a living on a flexible basis. I've written extensively about careers for a number of websites including Oxygen Media (1998-2001) AARP.com, MariaShriver.com and Job-Hunt.org.  And I have spoken at venues ranging from Harvard Business School to the California Governor's Conference on Women.  My advice has been featured in numerous media outlets including NBC Nightly News, The NY Times, CNN, Redbook, Ladies Home Journal, O Magazine and Fortune (you can get the full media list here).
On a more personal note, I've been married to my husband Joel for thirty+ years. We live in Old Greenwich, CT and are the proud parents of two delightful adult daughters and one slightly adopted cat.
Just for fun, here is a picture of the four of us taken at a recent family wedding: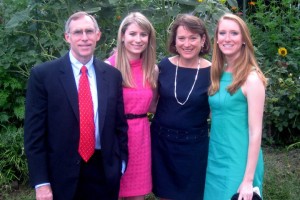 And one of our ill-behaved – but ever lovable – one-eyed cat admiring my new book …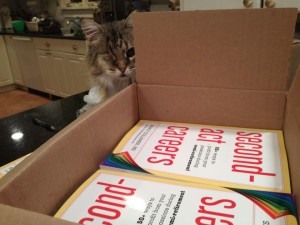 Thanks again for visiting. I hope you enjoy the site and please don't forget to stay in touch with me by signing up for the newsletter or by connecting on Twitter @NancyCollamer.
CONTACT INFORMATION:
TELEPHONE: (203) 698-3160   Please note I am on Eastern Standard Time.
E-MAIL: njcollamer@gmail.com
About the Site: MyLifestyleCareer.com is an informational site for boomers who hope to continue to earn income on a part-time or flexible basis after "retiring" from their full-time careers. The site is continually updated with new advice, resources, videos and inspirational success stories, so if you want to stay informed, please sign-up for our newsletter to automatically receive our updates.