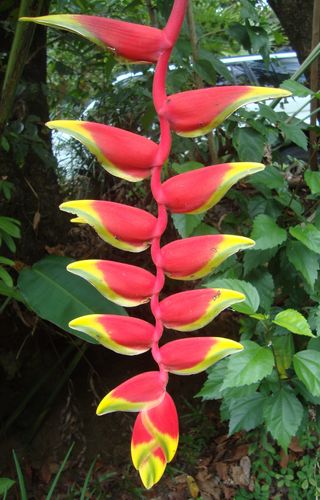 Lesson #7: Take Time to Smell the Roses
I'd love to tell you that this photo is of a flower from my garden, but in truth, I snapped this picture during our vacation to Costa Rica this past February. It was one of many gorgeous flowers we saw during our visit to that lovely country. Magnificent, isn't it?
Finding that photo reminded me that one of the great joys of being on vacation is that it gives you a chance to just sit back, relax and do nothing. What a treat.  In today's world doing nothing is viewed as a luxury. Everyone is always busy, always connected and always multi-tasking.
When we need an answer to a question, we no longer take the time to ponder or reflect. Instead we:
Google it.
Tweet it.
Text it.
 E-mail it.
Ask. Click. Send. Receive.
Repeat
Ask. Click. Send. Receive.
Repeat
Our instant gratification lifestyle works well most of the time.  But when it comes to the bigger questions in life, the answers  shouldn't be decided in 140 characters or less.  The important questions deserve a mental buffer zone where the right answers can slowly appear, unfold, and evolve.
So the next time you're trying to make a key decision about your career, unplug and go "do nothing:"
Enjoy a quiet walk in the woods
Admire a statue
Skip stones into a pond
Play with your dog
Cuddle with your cat
Meditate
Sit on a bench and eat an ice cream cone
Create a space for your mind to wander.  Allow yourself to hear the quiet voice within. And always remember to take time to smell the roses.
Enjoy this? Here is the rest of the series:
Lesson #1: Getting Started is the Hardest Part

Lesson #2: Plant Yourself in the Right Soil
Lesson #3: If You're a Sun Loving Plant, Find a Sun Loving Garden
Lesson #4: Don't Wait to Reach for the Watering Can
Lesson #5: The Grass Always Looks Greener on the Other Side
Lesson #6: Say Goodbye to the Old – to Make Space for the New
Lesson #7: Take Time to Smell the Roses
Lesson #8: To Be the Best, Learn From the Best
Lesson #9:  Expect the Unexpected
Lesson #10: To Everything There is a Season