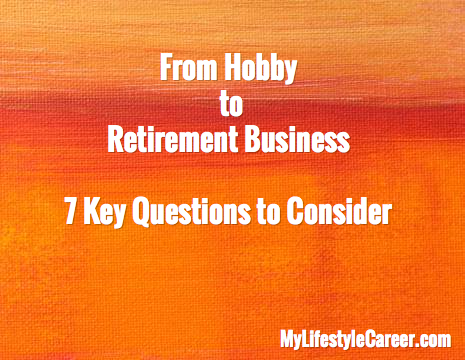 Looking for ways to turn your hobby into retirement income?
My friend and colleague Jeff Williams, founder of Bizstarters.com and an expert on boomer entrepreneurship, put together this list of seven questions to consider when thinking about turning your hobby into a business. (To learn more about Jeff and Bizstarters.com, I encourage you to read my profile of Jeff on NextAvenue.org). He generously agreed to allow me to reprint it here:
1. Will you still enjoy your hobby activity if you find yourself having to work at it eight hours per day, five or more days per week? Or do you derive joy from your hobby because you use it as an escape from your work life?
2. Do you have a clear idea of approximately how many other people enjoy your hobby? A round number will do, such as "more than 100,000 people". If you don't already have a sense of the size of your hobby-users group, visit your library's reference room and ask to see the Encyclopedia of Associations.Look under the alphabetical category that contains your hobby, such as "F" for flying. See if there is a trade association that serves individuals who participate in your hobby. If there is, use the phone number in the Encyclopedia to contact the association. Ask for some general information on the number and characteristics of your fellow hobbyists, such as the approximate number of participants.
3. Do you know everything you need to know about how to replicate the hobby for others, such as where to buy supplies at wholesale cost, how much money it takes to start the business full-time, whether licenses or permits are required to run such a business, etc.?
4. You know what you pay to enjoy your hobby. Are your costs typical of other users? If so, how much do you think you can charge per hour, per trip, per unit of product, etc.?
5. At your proposed price per use, how much profit (dollars or %) do you think you can make?
6. How many users will you have to sell in a year to cover your expected business expenses…and pay yourself your desired salary?
7. Can you find at least one other person in the U.S. (or overseas) who has successfully turned your hobby into a profitable business? If yes, try contacting them to see if they will chat.
Thanks Jeff!