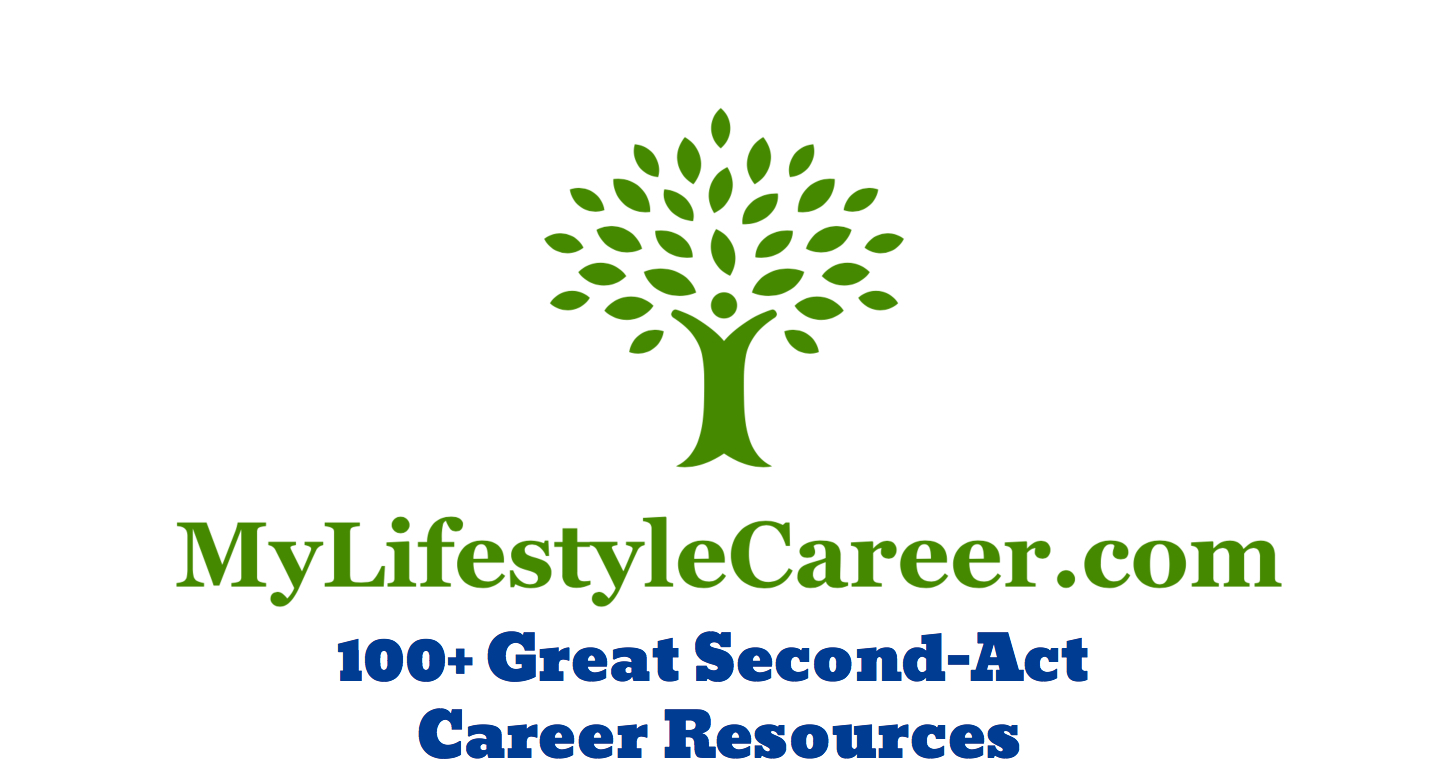 This list of 100+ great resources is for boomers (and others) interested in fun, flexible and fulfilling second-act careers. There are lots of other "best-of" career lists out there, but as far as I know, this is the first and only one to focus on flexible, part-time and entrepreneurial options. So if you're done with the "big" job and are eager to profit from your passions on a part-time basis, this is the list for you.
Start with these sites
NextAvenue.org (PBS site for people over 50): Yes, I write about retirement, work and purpose this site. But even if I didn't, I'd still enthusiastically recommend it. The site publishes new content every day, so be sure to sign up for their newsletter to stay in the loop.
AARP AARP has a surprisingly large library of career-related info specifically for people over 50. Definitely worth a visit.
Get Inspired
There's nothing like a good success story to rev-up your career reinvention success. Here are several sites with stories sure to inspire:
AARP.org Stories (and videos) of people who reinvented their careers after age 50 and found deeper joy and satisfaction as a result.
Second Act Stories As the name suggests, this terrific podcast tells the stories, and lessons learned, of people who've have made major changes in their lives to pursue more rewarding second acts. New episodes come online every two weeks.
Side Hustle School: I'm a devoted fan of Side-Hustle School, a daily podcast that spotlights a wide array of entrepreneurial pursuits. Each episode includes links to helpful resources and tools, as well as smart advice on running a business.
JonathanFields.com I admire Jonathan Field's work, especially his Good Life Project (GLP) a video series featuring in-depth conversations with acclaimed artists, entrepreneurs and influencers.
Liveyourlegend.net Although this site is skewed to a younger demographic, I still think you'll benefit from the advice, resources and inspirational profiles shared here by Chelsea Dinsmore and her team.
NewYorkCityWoman.com This site has inspiring articles about women over 50 reinventing their lives andcareers.
TED.com TED talk videos feature thousands of the world's most inspirational speakers on a wide range of topics, including many thought-provoking second-act stories.
Explore Entrepreneurial Possibilities
If you're not sure what type of businesses are out there, these sites will help you to explore a variety of intriguing entrepreneurial pursuits and possibilities.
Entrepreneur.com The online home of Entrepreneur magazine offers entrepreneurial advice, as well as plentiful information and resources for people interested in franchising.
FabJob.com FabJob guides and online certificate programs are a great resource for learning in-depth "how-to" information about a variety of entrepreneurial options – everything from How to Become a Cake Decorator  to How to Become a Celebrity Assistant to How to Become a Mystery Writer.
JoyfullyJobless.com This is the website of Barbara Winters, author of one of my favorite books Making a Living Without a Job and creator of the info-packed Winning Ways newsletter. The site is filled with helpful ideas and inspiration for people who want a more flexible second act.
50 Business Ideas People Are Actually Making Money From Fabulous post loaded with possible second-act business ideas.
Find Entrepreneurial Training and Assistance
Starting a new business can be a daunting task: What zoning regulations apply to your situation? What's the best legal format for your business? How can you best market your services on a shoestring budget? These resources will help you to answer those questions — and launch, manage and grow your venture.
SCORE A nonprofit with more than 340 chapters nationwide, SCORE is dedicated to helping people start and grow small businesses – webinars, in-person training programs, and free consultations with experienced professionals who serve as mentors to budding entrepreneurs. I wrote about SCORE in this post for Next Avenue: How to Become a SCORE Small Business Mentor.
The U.S. Small Business Administration is an excellent resource for anyone wanting to start, grow or manage a business. 

The Kaufmann Foundation runs a FastTrac program for both new and experienced entrepreneurs (in-person and online).
Bizstarters.com Coaching, services and information for boomer entrepreneurs.
PivotPlanet.com  Whether you're thinking of becoming a baker, beekeeper or kid's clothing designer (or pretty much anything else), PivotPlanet.com is the best place to find advisors and mentors who can answer your questions about all types of entrepreneurial options.
Senior Planet NYC offers a range of free 5- and 10-week digital technology courses at their Exploration Center for people age 60 and up. And Senior Planet has a 10-week Startup! Course, which runs for 90 minutes twice a week.
Courses:
The world of online education is continually growing and evolving. As a starting point, you might enjoy this guide about how online programs work. It covers the similarities and differences between vocational and career schools and 4-year universities. There are tips to help choose the right program and info about the different career paths opened up by various programs. Other helpful sections include the one about Massive Open Online Courses (what they are and their benefits) and another about financial aid and scholarships for online learners.
A few online programs of interest:
Gothamwriters.com Gotham Writers' Workshop is the leading creative writing school in New York City and they now offer a number of their courses online. If you're interested in learning about the craft and business of writing, this is the site for you.
Lynda.com is now part of Linkedin Learning. For a small monthly fee (first month is free), members receive unlimited access to a vast library of video tutorials covering topics like CAD, 3-D animation, social media marketing, photography, film making, app development, web graphics and more. Some libraries offer free access to Lynda.com, so be sure to check with your local library.
MOOC's are Massively Open Online Courses offered to everyone by some of the world's top colleges and institutions, including Harvard, MIT, The Smithsonian and Google. The big three MOOC platforms, Coursera, Udacity, and edX, now offer users official recognition for their paid courses, and in some cases, even academic credit.
CreativeLIVE Classes for creative entrepreneurs with titles like Unlock the Power of Pinterest, Make Your Website Work for You, Starting a Business over 40 and Social Media Bootcamp. The initial live broadcast of the class is free and then the recorded class can be accessed for a small fee.
Look for Flexible Gigs and P/T Jobs
Interested in finding freelance, work-from-home and flexible jobs online? Before starting your search, be sure to check out SideHusl.com (I recently wrote about this site for NextAvenue.org). It's the single best site for anyone looking to earn extra income from a side gig.
Cautionary note: Unfortunately, there are unsavory operators in this space, so when evaluating job postings, please remember the adage, "If it sounds too good to be true, it probably is." Do your homework, exercise caution and be a smart consumer!
Behance.com An online marketplace where creatives (photographers, graphic designers, illustrators, etc.) can showcase their work and search for jobs and freelance opportunities.
BackDoorJobs.com Short-term job postings (teach abroad, farm jobs, wilderness therapy ventures, etc.) located in the US and overseas.
CoolWorks.com A terrific site for seasonal and summer job listings at cool places like resorts, ski attractions, and the National Parks.
Direct Sales Association If you're interested in working for a home party or direct sales company this is a great place to begin your research.
FlexProfessionals Staffing company serving the Washington, D.C. metro area that fills part-time, flexible and project-based needs.
FlexJobs.com Jobs and articles/advice for people who want to work on a flexible basis. There is a small membership fee to access their job listings.
Freelance Writing Jobs A freelance writing community featuring daily job leads, articles and "plenty of commiseration."
Guru.com Opportunities for freelancers in over 160 professional categories including website design, programming, graphic design, business consulting, and administrative support.
LocalSolo.com As the name suggests, LocalSolo.com was created to help companies and freelancers who prefer to work face-to-face, but there are now remote job listings as well for tech professionals, content providers, designers, marketers and many others.
MediaBistro.com Excellent site for anyone who creates or works with content, or who is a non-creative professional working in a creative industry. Their job board has both full-time and freelance gigs and they have a wonderful training section covering all types of media and content-related careers.
Ratracerebellion.com Work-from-home jobs and opportunities. Excellent free newsletter.
Virtual Vocations.com is a site solely for telecommuting jobs and since the work-from-home space is notorious for scams, Virtual Vocations employs three teams to screen each job before it is approved and doesn't post fee-based, solely commission-based or "start your own business" opportunities. The site offers free and paid memberships.
Explore Temp and Contract Firms
In recent years, there has been an increase in the number of contract firms that place professionals into temporary, executive-on-demand and contract assignments. Here is a sampling of options:
Aquent Project opportunities for professionals in the digital, creative and marketing fields.
Arise Virtual Solutions Work-from-home jobs in customer service, sales and technology support to major Fortune 500 companies. According to a recent Wall Street Journal article, "The company's goal is to have older Americans make up 35% of its network of 25,000 contractors, up from a current 20%."
Patina Solutions Opportunities for professionals with 25+ years of experience who want to work in project-based roles. Assignments cover a wide assortment of industries and business functions.
Tatum Interim executive firm that contracts out CEOs, CFOs, CIOs and other finance and accounting executives.
The Flexwork for Women Alliance A comprehensive list of national and regional firms helping women find flexible work.
YourEncore.com This site matches seasoned talent with top companies in the life sciences, medical devices, and consumer goods industries. Assignments can last from a few days to over a year and compensation is determined by factors including project type, skills required and marketplace standards.
Get Help with the Boomer Job Search
Looking for a job when you're over 50 can be a real challenge – these sites can help:
CareerPivot.com offers smart career change and job-search advice aimed at people over 50. The site also features a wonderful podcast series on Repurposing Your Career.
Job-Hunt.org One of the best overall job search sites on the web, with special sections devoted to mid-life job search and lifestyle-friendly careers.
Mary Eileen Williams The author of Land the Job You Love: 10 Surefire Strategies for Jobseekers Over 50 provides very useful job search advice on her site, Feisty Side of 50.
Over 50 and Unemployed Outstanding 5-part series from AARP that examines a variety of work options including part-time work, consulting, entrepreneurship and project work.
RetirementJobs.com A job site specifically for people over 50.
Read a Second-Act Career Book:
Here are several articles where I recommend second-act career books:
10 Books To Help You Create a Great Semi-Retirement
Five Books to Gift People Who Want to Work After Retirement
Want to Work During Retirement? 9 Books to Read Now
Build a Profitable Blog
These resources are for people interested in learning how to create profitable blogs and other types of online businesses that can be run from anywhere in the world (Tahiti anyone?)
LocationRebel.com Sean Ogle writes about building a business you can run from anywhere.
Problogger.net Outstanding resource (probably my favorite site about blogging). It also lists freelance blogging opportunities.
Fizzle.co My other favorite site about blogging. Run by Corbett Barr, Chase Reeves and Caleb Wojcik, these guys are the "real deal."
The Suitcase Entrepreneur The founder of the site, Natalie Sisson, runs her business while traveling the world. Her book, The Suitcase Entrepreneur, is chock-full of helpful advice and resources.
TropicalMBA.com Another site that helps people build profitable location independent businesses.
Find a 50+ Community
It can be tough to make a go of a second-act without the support of other people going through the same transition at the same time. While the following sites aren't technically career sites, their content is tailored to people over 50 (unfortunately, both of these are geared for women, sorry guys!):
Sixty and Me An online community and website of 40,000+  women over sixty. Amazing collection of insightful content.

The Transition Network The Transition Network has chapters throughout the US. It is an inclusive community of professional women, 50+, whose changing life situations lead them to seek new connections, resources and opportunities.
Great Sites for People Who Love…
Arts and Crafts
The Craft and Hobby Association An international association that hosts two industry expos, ongoing training programs and offers a full-suite of purchasable benefits (health, life, long-term care etc.).
Craftsy.com If you love to make crafts, or you want to figure out a craft you can make and sell, you'll love these online crafting classes and videos.
Etsy The world's largest online marketplace for crafters, Etsy also has an impressive educational and community component to their site. 
Festival Network Online With over 22,000 event listings, this is a terrific resource for people who want to sell their crafts at art shows and fairs (or perform at music festivals).
How Artists Make Money An inspirational series from the wonderful folks at NPR that profiles successful artists, including poets, painters and musicians.
Food Lovers
GoodFoodJobs.com This tasty site lists full-time and flexible jobs, as well as internship opportunities, in a variety of food-related fields. Be sure to also check out the many entertaining second-act profiles on the site.
New England Food Safety Consortium Helpful listing of  food-related business sites (you don't need to live in New England to take advantage of them).
SpecialtyFood.com The Specialty Food Association caters to food artisans, importers and entrepreneurs.
Non-Profits and Volunteering
Encore.org This is a fabulous resource for people over 50 interested in helping the greater good. Among their many offerings, Encore sponsors a fellowship program that matches skilled professionals with at least 15 years of experience with "high impact" assignments at nonprofits. 
Bridgespan Group: An excellent site for executives looking to "cross the bridge" into the non-profit arena.
Commongood Careers is a retained search firm serving the nonprofit industry.

Executive Service Corps is a nationwide network of nonprofit consulting organizations. Volunteers assist organizations with strategic planning, improving board effectiveness, coaching CEO's, marketing and business planning.
Foundation Center The Foundation Center operates research, education, and training programs designed to advance knowledge of philanthropy at every level.
Idealist.org has a database of over 80,000 nonprofit organizations and a nonprofit jobs board.
Pointsoflight.org connects volunteers to opportunities in communities throughout the US
ReServe.org  ReServe connects retirees with part-time work at nonprofits. Best for those who want to help organizations strapped for funds and resources, since the pay offered is quite low (about $10 an hour).
RSVP is run by the US government and is one of the largest volunteer networks in the nation for people 55 and over.
Volunteermatch.org An excellent online service that matches volunteers to meaningful volunteer opportunities.
Pets
American Kennel Club has certification and training for people interested in becoming breeders and dog show judges.
American Pet Products Association is a must-visit site for anyone interested in learning more about producing, selling or marketing pet products.
Association of Pet Dog Trainers and the Certification Council for Professional Dog Trainers sell resources for people interested in becoming a dog trainer.
Pet franchise options: There are an ever increasing number of pet franchises, ranging from grooming franchises to doggie daycare services to pet waste removal services.
Publishing and Writing
Writers Digest: Widely regarded as the #1 resource for writers, this is a one-stop-shop for information about conferences, writer's communities and advice on how to monetize your writing.
The Well-Fed Writer: Advice, resources and training for people interested in writing for the business and corporate markets.
The Write Life: A very helpful site for writers eager to learn how to thrive in the digital world. I especially like this post 100 Best Websites for Writers in 2020.
How to Become a Novelist in Your Second Career: This is an article I wrote for NextAvenue.org that shares tips and resources for aspiring novelists.
Make a Living Writing: As the name implies, this site will help you learn how to profit from your writing skills.
Rachelle Gardner: Great advice for anyone looking to learn more about the publishing industry – topics include how to write a winning book proposal, how to get a book cover designed and how to land a literary agent.
Travel
Modern-Day Nomads: Site for those who want to work while traveling the world.
Peace Corps 50: Hard is it may be to believe, 7% of Peace Corps volunteers are over age 50. Learn more about their offerings for people over 50 here. Another great site for finding out what life is like for older Peace Corp volunteers is Notexactlyretired.com, (written by my brother David Jarmul).
Transitions Abroad: Articles and resources for people interested in working abroad and teaching english overseas.
Travel Writing 2.0: Advice and resources if you want to earn a living as a travel writer.
Did you find this list useful? If you like it, please be sure to sign-up for our bi-monthly newsletter so you can stay continually informed about helpful second-act resources.