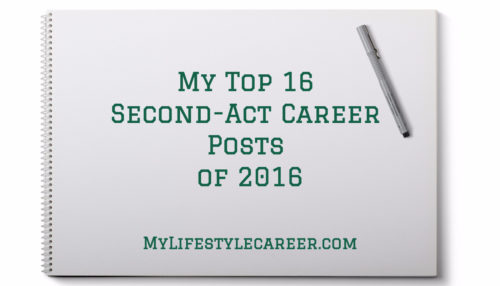 Happy New Year! Over the holiday break I took some time to go through my posts from the various sites I write for (NextAvenue.org, Forbes.com, USNews.com, and of course, MyLifestyleCareer.com) selected 16 of my favorites, and compiled them into one mega-post.
Enjoy – and here's to YOU launching a meaningful, fulfilling and fun second act in the year ahead. Together, let's make 2017 your best year yet!
Posts to Help You Figure Out What You Want to Do 
The 5 Key Questions to Find Meaningful Work In this NextAvenue.org post (in honor of my 20th anniversary as a career coach!) I shared five coaching questions for people eager to find more meaningful work. I hope you find them thought provoking and that they'll encourage you to discuss them with family and friends
Why Do You Want to Work in Retirement? Beyond the paycheck, what do you hope to get out of working? It's an important question to ponder. Because when you really understand what's most important to you about working — both the financial rewards and intrinsic motivators like finding joy from helping others — it becomes far easier to zero in on satisfying options.
How to Figure Out What Should I Do Next? In this review of Julia Cameron's latest book, It's Never Too Late to Begin Again, I detail some of the many outstanding exercises she includes that can help you discover your next steps.
4 Easy Ways to Prepare for a Second-Act Career If you want to maximize your options for a meaningful second act, it's important to plan ahead. Fortunately, there are some very simple and fun things you can do to get the process rolling – even while you're still working full-time.
Tools For Your Transition
4 Ways to Take Classes on the Cheap The options for continuing education have never been better — or more affordable. In this NextAvenue.org post I highlight four ways to get the skills you need without paying a fortune.
10 More Great Sites to Find Gigs and Part-Time Work In this post I overview 10 sites that advertise flexible gigs – a must-read for anyone looking for flexible work options.
How to Find a Flexible Job or Create One Tips, resources and strategies if you want to find decent flexible work.
The Caregiving Boom: Where the Jobs Are I've long maintained that one of the best places to look for second-act careers is in the aging space. As this NextAvenue.org post highlights, the opportunities in this industry are plentiful, diverse and increasing all the time.
More Resources if You Want to Write in Retirement I often hear from readers asking for ideas and tips on how to monetize their writing in semi-retirement. This post covers some excellent resources that can help turn your words into income.
Second-Act Career Ideas
How Your Hobbies Can Make You Money in Retirement The possibilities for monetizing your hobbies — both locally and online — have never been better. If you're eager to turn your hobbies into retirement cash, this post highlights six winning strategies to consider.
6 Ways to Make Money From the Sharing Economy in Retirement The sharing economy – platforms and services that make it easy for you to rent out things you own and services you offer – opens up some interesting options for retirees looking to generate extra cash during their second act. And contrary to what you might think, the sharing economy is no longer limited to services like Uber and Airbnb.
Want a Second Act as a Travel Blogger?  In this post I explain how you can monetize your love of travel during semi-retirement by working as a travel blogger.